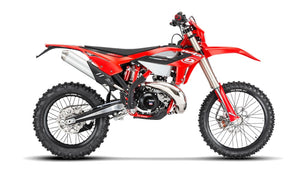 Beta RR300 2T 2023
Be quick these are run-out prices and they will not hang around long. Grab yourself a bargain!
For all models

• Suspensions: Beta never stops honing the frame and suspensions of its bikes. In the quest for an even sharper, purer rider feedback, Betamotor's engineers have revised the internals of the front fork – a ZF component, as on the previous generation – of the 2023 model year of the RR family. First and foremost, the geometry of the oil passages around the fork piston has been modified to eliminate any throttling effect completely and ensure impeccably smooth damper action throughout the entire travel. By creating freer-flowing oil return passages, this improvement opens up even greater possibilities for setting up the fork, as eliminating all structural impediments to the oil flow means that even the smallest change in setting produces a perceptible result. This results in an improved rider comfort and in a more effective fork support throughout the initial excursion of the damper. Therefore, the bike remains composed and controllable even in rough terrain conditions.
• Radiator shrouds on tank: one of the changes over the previous generation with an impact on both style and function is the revised shape of the new radiator shrouds on the RR range. The new shrouds are narrower than before to give the rider more freedom of movement, especially when cornering in a motocross style with the bike leaned sharply into the bend and with the inner leg extended forwards. More ergonomically shaped than before, the shrouds let the rider assume a snugger position on the saddle with the bike gripped firmly between the legs for an even better rider feedback. The sleeker new shrouds also contribute to the revised, simple, and essential new look of the bike.
• Graphics: all models now feature a new all-red colour scheme. The style of the graphics is more minimalist than before, with bold, clearly defined forms and purer, more modern lines which emphasise the muscular shape of the bike and link the new shrouds seamlessly to the other components.
---
We Also Recommend